Airboat good to go on Lake-Cleaning Missions
published: 13 Dec 2017
by: Hemanth CS
The once-ubiquitous Maruti 800 may have lived out its life, but its engine has found a new host and is doing pretty well. The first-of-its-kind airboat, developed in India by National Aerospace Laboratories (NAL), which was built to clear out weeds from Ulsoor Lake, has successfully undergone trials.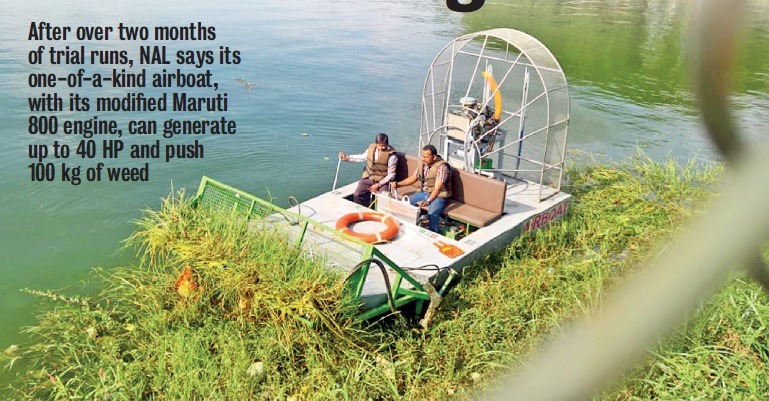 Scientists at the civilian aerospace R&D laboratory have been carrying out trials for over two months and the airboat, powered by a modified engine of the Maruti 800, could successfully cut weed and scoop away the floating waste.
S Selvarajan, chief scientist and principal investigator, pointed out that field trials of the airboat with automotive engine and flat-bottom hull has successfully demonstrated all functionalities of the system.
"We moved the boat to Ulsoor Lake on September 15. During the daily trials being done for the last two months, the boat met all the parameters. It could generate up to 40 hp and push 100 kgs of weed each time. Our aim is to go for a powerful and sturdy engine in the future; as technology evolves, may be we'll need an engine that can generate up to 150 hp [and could be used] to clear lakes that are heavily infested with weeds," Selvarajan told Bangalore Mirror.
Even during the heavy rains that the city saw in the months of September and October, the trials were on and it did not hamper the performance of the boat.
Karthikeyan, senior scientist and co-Investigator, CSIR-NAL, who operated the airboat, said the boat also had a hydraulic system-based scoop and saw-toothed, sliding weed-cutters at the front.
NAL, which has been involved in developing airboats for inland waterways applications, will soon be demonstrating the technology to the Madras Engineer Group and Centre and government officials.
NAL Director Jitendra J Jadhav said the boat will cater to the current needs of lake maintenance. "Weed clearing is not a one-time job. The lakes have to be periodically de-weeded as part of maintenance activity. Thus, government agencies concerned should own them and carry out de-weeding regularly," Jadhav said.
The airboat, he said, could also be used during flood disasters, mass transport in marshy-lands, and for tourism. "We plan to network with CSIR Labs, and feel that versions of airboats have potential to evolve as one of the lead products of CSIR, serving Centre's initiatives such as Swachh Bharath, Namami Ganga, etc," he added.
THE COST FACTOR
Scientists said each boat will cost about Rs20 lakh (2 Mio. Indian Rupees, about US$ 32,000) and the production will have to be taken up by the industry.
They added that a key aspect here is to ensure that the cost of the indigenous airboat is lower than the imported ones.
"As the proof of concept is successful, versions of high-powered airboats would also be made to cater to the end-user needs, if required," said scientists.