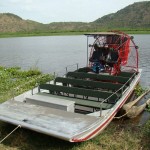 Airboats are the only safe way to venture into the watery world of swamps, marshes & river deltas. Safe? Yes, safe. Airboats are safe – both for the local fauna and flora, and for the guests on board. Airboats are a stable platform and thus provide so much more safety than jon boats, inflatables, canoes or mokoros.
[Curious? Find out more…]
Oh Yeah, take me for a ride to see the lekker ecotourism gallery.