Airboat support for missing 8-year-old
by: 6 News
published: 12 June 2020
SARPY COUNTY, Nebraska Law enforcement is asking citizens with airboats to help with the search Saturday morning.
You can sign in at the Highway 50 boat ramp beginning at 8 a.m. Officials are "confident (Tarie's) body is not onshore or a sand bar."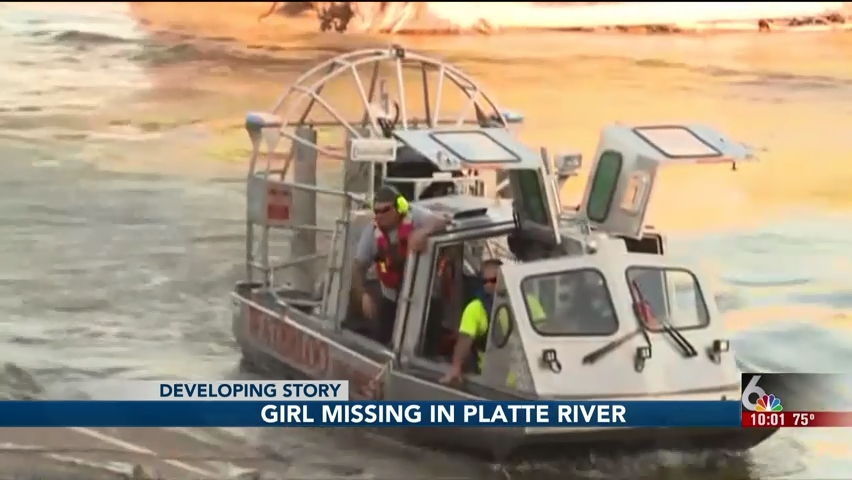 The search for 8-year-old Tarie Price who went missing at the Platte River in Schramm State Park on Thursday has shifted from rescue to recovery, as authorities believe she is no longer alive.
Officials gave an update Friday afternoon after the search resumed at 8 a.m. Sarpy County Sheriff's Office Lt. Dennis Svoboda said efforts to find Tarie continue to be supported by members of the community.
"We have informed the family we have gone from a rescue mode to a recovery mode," Svoboda said. "Our efforts will continue. If we're not successful today, we will be back tomorrow."
About six miles of the river have been searched. They are fairly confident Tarie is in the area but at this time she has not been recovered.
"We feel at this point we have no evidence to support that she was able to make it out of the water anywhere," he added. "We feel she has not survived this."
Investigators are still looking into how Tarie disappeared. They received information that Tarie was "holding onto a life jacket" but Svoboda said they were not sure what that meant.
"We will be here till we find her," he said. The search will continue until Tarie is found for her family.
Svoboda said they were very thankful for the amount of support from the community in helping with the search.
Megan Stubenhofer-Barrett, Sarpy County Communications Manager said it is important anyone at the river to wear a lifejacket, never swim alone, and not to swim while intoxicated.
The community responded to helping with the search almost immediately when she was reported missing Thursday night.
People used personal boats and other equipment to help locate the missing girl. Friday morning, authorities are urging those who wish to use dogs, drones, or any other means of search, to first stop at the boat ramp at Schramm Park right off of Highway-50 and Highway-31 to check-in.
Authorities are asking anyone who lives along the Platte near Schramm Park to stay aware and to keep their eyes open.
She was last seen in a pink bathing suit, and also responds to the nickname Juicy.
Officials still searching for 8 year-old Tarie Price at Schramm Park. It's now a recovery effort until her body is found.